THE ULTIMATE HOOK-UP IN RUIDOSO NEW MEXICO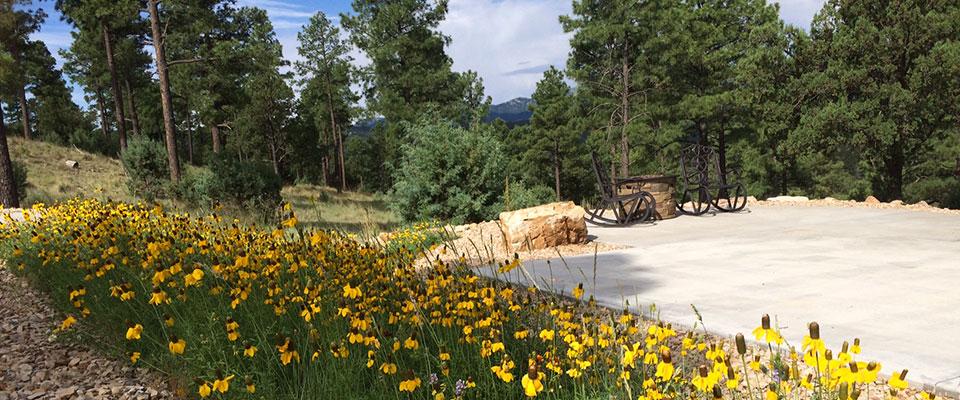 A VACATION SITE WORTHY OF YOUR LUXURY COACH
As a luxury motorcoach owner, you're already rolling with most of the comforts of home. Ruidoso Motorcoach Ranch—the only Class-A New Mexico luxury RV resort on the map—was specially designed to complete your mobile masterpiece, with amenities that complement your vehicle's on-board assets. We've made it our mission to give distinguished drivers a fresh alternative to typical Ruidoso RV parks: an exclusive, perfectly appointed motorcoach retreat, tucked away among the trees. You can expect everything you'd find at any RV Park in Ruidoso, NM and so much more
An overview of our on-site amenities is below…read on for more details!
• Spacious sites with beautiful views      • Private patios with gas fire pits
• Ultra-smooth paved driveways             • Full hookups with 50-amp electric
• Water, sewer, cable + phone                  • Grass areas + privacy landscaping
• Secure, gated property                            • Wi-fi and satellite cable TV
• Fully-paved resort roads                         • Modern shower + laundry facilities
• Private nature + hiking trails • Use of fully appointed Party Pavilion
• Resort-wide, filtered, reverse osmosis water (no softeners needed)
PRETTY. PRIVATE.
Unlike most New Mexico RV parks, Each Ruidoso Motorcoach Ranch site offers unparalleled privacy and just the right balance of wilderness and civilization. Once you pass through our secure gated entrance, you'll find yourself surrounded by the beauty of nature combined with a host of modern comforts and conveniences at your fingertips.
Throughout the 45-acre property, smooth paved roads connect you with your choice of 29 spacious vacation sites. Whether you choose a secluded grove, valley or meadow view, you'll park your coach on a smooth, level pad with full hookups, including 50-amp electric, water, sewer, as well as free wi-fi and satellite TV. Each of our vacation sites has a private patio with a gas fire pit for relaxing and entertaining, PLUS well-maintained lawn areas and privacy landscaping to complete your secluded retreat.

SHARED AMENITIES
As the pinnacle of New Mexico Luxury RV resorts, Ruidoso Motorcoach Ranch is proud to offer a suite of shared amenities to make your stay with us extra comfortable. Woven throughout our beautiful property are private nature and fitness trails—close enough to squeeze in a quick morning jog, but far enough removed that you won't hear your neighbors chatting. After your stroll, enjoy a hot shower or catch up on the laundry in our modern guest facilities.
If larger-scale entertaining is on the bill, bring the whole posse to our Party Pavilion; our central gathering place and group-friendly grill are standing by to help you make your event memorable.