Ruidoso Motorcoach Ranch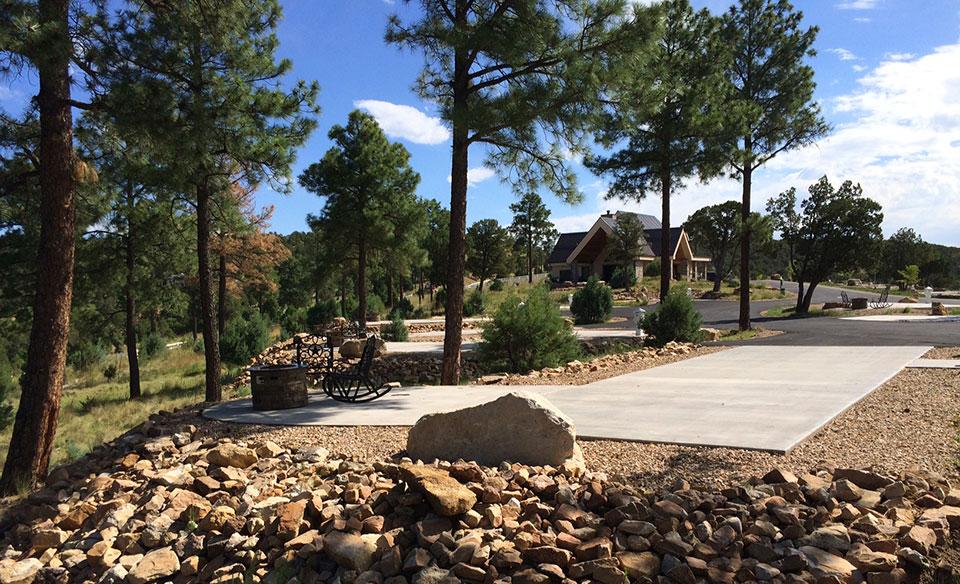 YOUR FULLY APPOINTED, ALL-ACCESS WILDERNESS RETREAT.
Take your New Mexico motorcoach vacation to a whole new level at Ruidoso Motorcoach Ranch! As the only Class-A New Mexico luxury RV resort on the map, we've made it our mission to give distinguished drivers a fresh alternative to typical Ruidoso resorts: an exclusive, perfectly appointed motorcoach retreat, tucked away among the trees.
RUSTIC, YET REFINED
Your motorcoach is the gold standard in vacation vehicles—and it deserves a VERY special parking spot. Each Ruidoso Motorcoach Ranch site offers unparalleled privacy and just the right balance of wilderness and civilization. There are grove, valley or meadow views from every site; check out our property map to see where you'd like to be in relation to shared ranch amenities, and feel free to contact us if you'd like more information about a specific site. We want your stay with us to exceed your expectations, so our concierge is standing by to help you find the perfect spot! No matter which site you select, you'll be treated to:
Private patio with gas fire pit
Spacious site with a beautiful view
Ultra-smooth paved driveway
Water, sewer, cable
Full hookups with 50-amp electric
Grass area + privacy landscaping
Aerial Drone Photos Provided by David Tremblay
CLASS-A AMENITIES
As a luxury motorcoach owner, you're already rolling with most of the comforts of home. Ruidoso Motorcoach Ranch was designed to complete your mobile masterpiece, with amenities that complement your vehicle's on-board assets. Unlike regular Ruidoso hotels, the ranch offers spacious, private sites—each with a view of our peaceful property, PLUS a personal patio and fire pit for dining, socializing and simply soaking in our extra-great outdoors. If larger-scale entertaining is on the bill, bring the whole posse to our Party Pavilion; our central gathering place and group-friendly grill are standing by to help you make your event memorable. On-site amenities include:
Secure, gated property
Wi-fi and satellite cable TV
Fully-paved resort roads
Modern shower + laundry facilities
Private nature + hiking trails
Use of fully appointed Party Pavilion
ALL-ACCESS LOCATION
Ruidoso Motorcoach Ranch is located on 45 secluded acres off Highway 220, just a stone's throw from a variety of Ruidoso, NM attractions—everything from pristine national parkland to a performing arts center. Ruidoso enjoys mild temperatures throughout the year, with around 250 days of sunshine and relatively low precipitation. And, though it's a destination in its own right, Ruidoso NM is also ideally situated en route to some of New Mexico's most popular attractions: including White Sands National Monument, the Malpais Lava Flow, Three Rivers Petroglyphs National Recreation Area and much more. Whether you're active vacationers hoping to raise your heart rate or relaxed travelers wishing to unwind over dinner and a show, ALL Ruidoso attractions are within easy reach. Here are just a few, along with a map to help you get your bearings: